ZAFIRE DISTRIBUTORS, INC. Celebrating 35 Years of Innovation, Longevity and Partnership
---
​ Over the past three and a half decades, ZAFIRE has grown from its humble beginnings as a medical diagnostics company in North Luzon, Philippines, to a thriving national organization with strategic branches and depots spanning the Archipelago.

Today, we have reached another year of transformative growth and innovation with our family of companies. With this latest milestone, we take pride in the enduring values that have shaped our journey and continue to define our success.
Innovation
Our commitment to delivering tomorrow's technology and solutions to our valued customers has led us to strive to provide access to the latest advancements and enhancements in patient care.

Longevity and Stability
Our 35-year journey as a healthcare solution provider reflects our enduring strength and record of accomplishment. We have weathered challenges, adapted to evolving markets, and stood the test of time. Our longevity and stability are a testament to our resilience and dedication to serving our customers and communities year after year.

Partnership and Collaboration
We understand that healthcare is a collective effort. Our success over the years has been forged by strong partnerships and collaborations with multinational partners of global repute, healthcare professionals, institutions, and you, our valued customers. Together, we've achieved milestones in healthcare excellence.

We extend our heartfelt thanks to our dedicated team, loyal customers, and valued partners. Your trust in ZAFIRE has fueled our longevity and stability, fueled our commitment to provide advancement in healthcare, and fueled the power of partnership that drives us forward.


Mission

To meet the highest expectations of all customers we serve by unlocking the full potential of our people and providing leading healthcare solutions for a happier and healthier nation.
​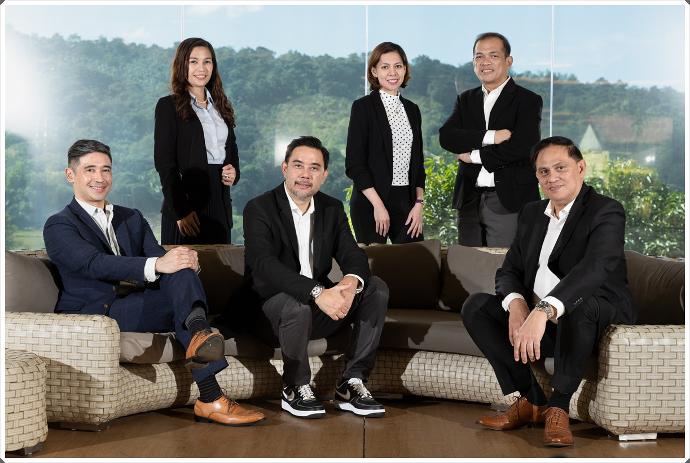 The Zafire Faculty

Guiding our human capital's growth and development are our Training Faculties who spearheads our comprehensive training and development programs. Their expertise ensures that our team remains at the forefront of industry trends and best practices, fostering a culture of continuous learning and professional growth.
Vision
The top-of-mind choice of customers and global healthcare innovators in
Luzon, Visayas, and Mindanao.
​Our Executives, Business Directors and ​Business Leaders
​​At Zafire, our success is underpinned by shared commitment to excellence and dedication of ​our people and a team of visionary leaders and business pioneers. Each member plays an instrumental role in shaping the future of healthcare distribution, innovation and for delivering unmatched customer value, ensuring that every aspect of our operations reflects ​our dedication to service and quality.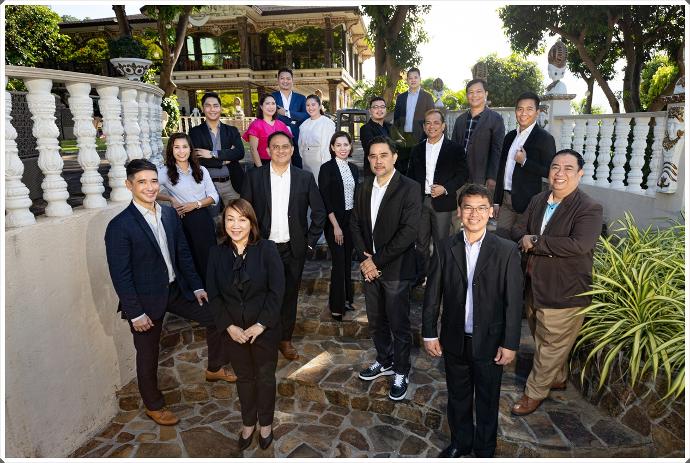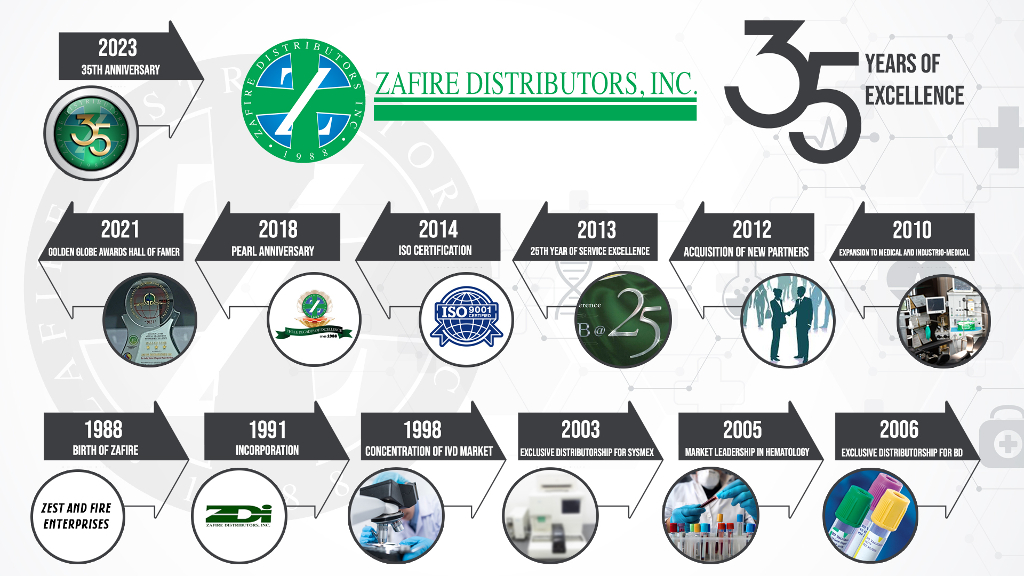 ​1988 - Birth of Zafire
Zafire had its earlier beginnings as Zest and Fire in September 1988 when it sold and distributed on an exclusive basis medical diagnostic and other allied products of multi-national pharmaceutical companies.
1991 - Incorporation
Zafire was incorporated as Zafire Distributors, Inc. to take over the operations of Zest and Fire..

2005 - Market Leader in Hematology
Zafire placed Sysmex as the market leader in the hematology analyzer segment nationwide quickly developing other related line of Sysmex, including coagulation, urine and chemistry.

2012 - Acquisition of New Partners

Zafire aimed to provide complete laboratory solution and added new products from Clinell wipes, Atom Scientific stains, Centurion centrifuges, and Optika microscopes.

2013 - 25th Year of Excellence
In celebration of its silver anniversary, Zafire held its first medical conference entitled "CONFAB@25" in Crowne Plaza Manila Galleria.

2018 - Pearl Anniversary
In celebration of its 30th year anniversary, Zafire held another medical conference at Sofitel Philippine Plaza Manila.

2021 - Golden Globe Awards Hall of Famer
Zafire was recognized as a Hall of Famer for the Golden Globe Annual Awards for Business Excellence, being awarded as the Best Leading Medical & Diagnostic Products Distributor, receiving the same award twice last 2018 and 2021 respectively.

Meet Our Visionary Leadership Team
Get to know the faces behind Zafire's dynamic growth and success, each driven by a passion for excellence and a shared commitment to shaping a healthier world.




Our Executives